The Hockey Gods were working overtime the other night as I and thousands of others witnessed a couple of truly unbelievable sports moments in the NHL and OHL playoffs.
For me the night started kinda slow. In an odd circumstance, I found myself sitting alone (well almost alone save for good ole man's best friend) and switching back and forth between two games:  the Boston Bruins vs. the Toronto Maple Leafs in the first round of the NHL Eastern Conference playoffs and my hometown Barrie Colts vs. the London Knights in the OHL Finals; and yes, both playing game 7s. One more game 7 was also in progress between the Rangers and Caps, but my ability and willingness to focus across three channels was limited at best. My unfamiliar solitude was due to:
Hockey Momma fulfilling secretarial duties at our local minor hockey league board meeting, which begs the question..Who holds a meeting during a Game 7?
the Boy risking his life cheering for the Bruins in a predominantly Maple Leafs-friendly Buffalo Wild Wing. He told me as he left to watch for a text message should the score be headed in a non-Leaf direction and he had no idea how prophetic that statement would be.
the Devil begrudgingly performing in a school dance recital; a minor commitment she suggested she could "ditch" in favour of watching the pivotal playoff games.  You can easily guess who won that school vs. hockey argument, though she made a pretty strong case to her hockey-luvin dad.
So poochie and I enjoyed each other's company and cheered or booed as the four teams in our two primary games worked their way through their first periods with 1-1 results in each. Game 7s are generally pretty tight contests as neither team is willing to play a wide open game or risk making mistakes; mistakes which could mean vacations at their favourite golf courses.
However, towards the end of the first period in the NHL affair, I answered my ringing phone and was greeted by the desperate voice of one of  Hockey Momma's co-workers. On my way home from work earlier in the day, I was forced to take a detour as my primary route was closed due to a downed hydro pole. It seems the crippled pole was now responsible for power outages in the homes of hundreds or perhaps thousands of rabid hockey fans all around me. The first strike by the Hockey Gods perhaps? Regardless, I naturally offered to share my den and television; the only problem being my new viewing mates were all Leafs fans – then again this never mattered before so why should it now. Shortly after this family of Leaf-lover arrived, they were followed by a Bruins fan to even up the vibe in the house. And just like that, I was hosting a min-playoff party, conveniently equipped by Enterprise Rent-a-Car, a sponsor of the NHL and all of its teams, I might add (more on that below).
Shortly after my impromptu party mates arrival, both games started to get interesting as the bad guys from my humble perspective each scored goals to give them 2-1 leads, which they would take into their respective third periods. Third periods we shant soon forget.
In London, the Colts, missing three of their top forwards, continue to battle tooth and nail squaring the score at 2-2 with just under three minutes left in the third. This Game 7 was most assuredly going to overtime as the clock ticked under one minute then under 30 seconds. But then on a literally last second drive to the net, the puck inexplicably found its way up, over and behind the Colts keeper, who swung at it wildly and knocked it away from the net. The on-ice official waved no-goal, but with 1.1 seconds left on the clock, there would be a video review. Fingers were firmly crossed and quick prayers were issued to the aforementioned Hockey Gods. However, video from an overhead camera told a sad story as we saw the puck float through the air and over the goal line.  We waited and hoped our eyes deceived us and the TV commentators. No such luck and the Knights completed a comeback from 3-1 in the series to win the OHL Championship in the absolutely last possible moment of regulation time. Maybe the Colts would have completed the comeback in the game had the buzzer sounded one second sooner or maybe not. One Game 7 ended in despair.

Meanwhile, back in Boston, more inexplicable action ensued as the Leafs proceeded to open up 3-1 and then 4-1 leads with only 15 minutes left in the third. Could it be that the upstart Leafs would serve up a major upset in the first round and send the Bruins packing, much to my dismay? Hockey Momma had returned from her meeting and the Devil from her recital by now. The Boy's bar safety appeared secure. On TV, you could see some of the less-faithful Bruins fans themselves leaving the building. The Bruins would score with just over 10 minutes left in the game, but a two goal deficit was surely too big to overcome; even for the hardluck Leafs whose ineptitude dates back to the year before I was born.  With it being 9:30 on a school night, our friends having younger kids, the game in hand and power apparently restored to their home, the Leaf fans decided to take their leave. As they walked out, I quipped "We'll have to get together to watch the Leafs play the Rangers in the next round (also to besponsored by Enterprise Rent-a-Car as part of a NHL Playoff giveaway contest)." The Rangers and King Henrik Lundqvist, in the other game 7 were embarrassing the Caps 5-0 in their own rink.
Then the Hockey Gods flexed their muscles and changed the course of history in Boston. The veteran Bruins woke up somewhere around the 15 minute mark of the third, putting sustained pressure on the less experienced Leafs who were trying desperately to hold on to their tenuous two-goal lead. The Bruins, as per standard procedure, pulled their goalie with about two minutes left. A shot from the point with 1:22 on the clock found its way by the Bruins towering defenceman, Zdeno Chara, who installed himself as an immovable fixture in front of the Toronto goal and also by the Leafs' defenceless keeper. A mere 16 seconds later the Bruins would bury the most incredible Game 7 tying goal in history. With momentum decidedly and understandably on their side, the Bostons (with a few missing fans who were no doubt banging their heads against walls somewhere) completed the biggest comeback ever with a now-anticipated goal in OT; leaving Leafs fans everywhere standing, sitting or lying drop-jawed and numb as the realization of another playoff failure struck them like a bolt of lightning hurled at them by you know who. At my house, we erupted from the couch in awestruck amazement and at Buffalo Wild Wing, da Boy, my progeny, ran and high-fived the few other Boston fans in the joint at the risk of physical peril.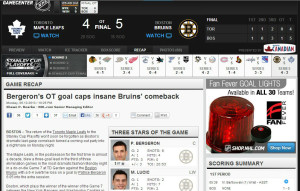 Once the jubilation subsided, I admittedly found myself feeling a touch of sympathy for the Leaf fans, many of whom are my close friends; who sat expectantly in front of their TVs on the verge of heart attacks or who crammed themselves among thousands just outside the Air Canada Centre in Toronto; only to be let down yet again. This morning the feeling returned as I read a great article in Deadspin about the risks of raising your child as a Leafs fan entitled "This Is How Hockey Hurts". Perhaps I should send the link to my viewing mates, who still have a chance to reprogram their young Leaf fan.  Everyone says you need to lose, before you can win, but this was one helluva way to lose. I think a lot of people would have preferred they succumbed to the Big Bad Bruins in Game 6. Or maybe not.  I can't really say, not being a Leaf fan. I can tell you, I'd take a Game 7, win or lose, as a Jets fan.
Just like that, in a matter of a few hours, I've yet two more fantastic and not-so-fantastic memories of playoff hockey. Some of those young OHLers were distraught last night, but have plenty to look forward to.  Tis the nature of the game. Real-life drama played out in real-time at breakneck speed right before your eyes. And hell, this was only Round One. The rest of the playoffs have a tough act to follow. Chances are we'll be there watching at the edge of our seats; I type while watching the Kings and Sharks finish their first game of Round Two at 9pm PST – midnight where I'm sitting.
#imahockeydad
Disclosure:  Enterprise Rent-A-Car and the NHL provided me with a gift package to host my watch party as a thank you for writing this post. However, the views and opinions expressed here are purely my own.
Find out about my own #imahockeydad giveaway at http://www.imahockeydad.com/2013/05/11/nhl-playoff-hockey-is-back-giveaway, which is open  to entries until the end of Round 2 of the NHL playoffs.
p.s. Just found this link from the NHL to a video montage of 17 overtime game-winning goals from Round 1, which by the way, was a record – Enjoy!